Kids Birthday Clown
Johie The Clown is Hawthorne, NJ's top Birthday Clown. If you're looking for something to add to your child's next birthday party then look no more! Johie The Clown is not your average Kids Birthday Clown she also offers 
Johie The Clown does it all. Johie The Clown will put a smile on everyone's face and ensure your party is one to never forget.  
 
Party Packages
Johie The Clown offers several Party Package experiences. Here are just a few but you can check out more packages Here. 
1. Day Care Birthday Special–This package is for 25 or fewer kids and is valid for weekday mornings only. 1.5 hours of Johie The Clown, a small silly magic show or fun bubble show, face painting or glitter tattoos. Also, enjoy basic balloon animals and lots of singing and fun. 
2. Extravaganza Package–This package is also for 25 kids or less. Includes 2 hours of fun with Johie The Clown! Also a silly magic or bubble show, face painting or glitter tattoos, balloon animals, music and movement and Cotton Candy! 
No matter what the event Johie The Clown is sure to make it memorable and fun for kids and adults too! 
Clown Party
If you think birthday clowns are a thing of the past think again! Johie The clown has been entertaining families for years in the New Jersey and New York City for years. You can see for yourself from her awesome reviews and Testimonials that Johie The Clown comes highly recommended. Having a Clown party is more than just giggles Johie offers several add on services that are sure to keep your kids and adults entertained. Like her Bubble Party Package, not only does she blow tons of bubbles but she can put you inside one! How awesome is that? Kids will also jump for joy when you book Johie for Face Painting. Johie is a talented face painting artist as well! Kids always enjoy being decorated with whimsical designs. Need Ideas decorating for your Clown themed birthday party? Check out these sites for some cool ideas. 
Events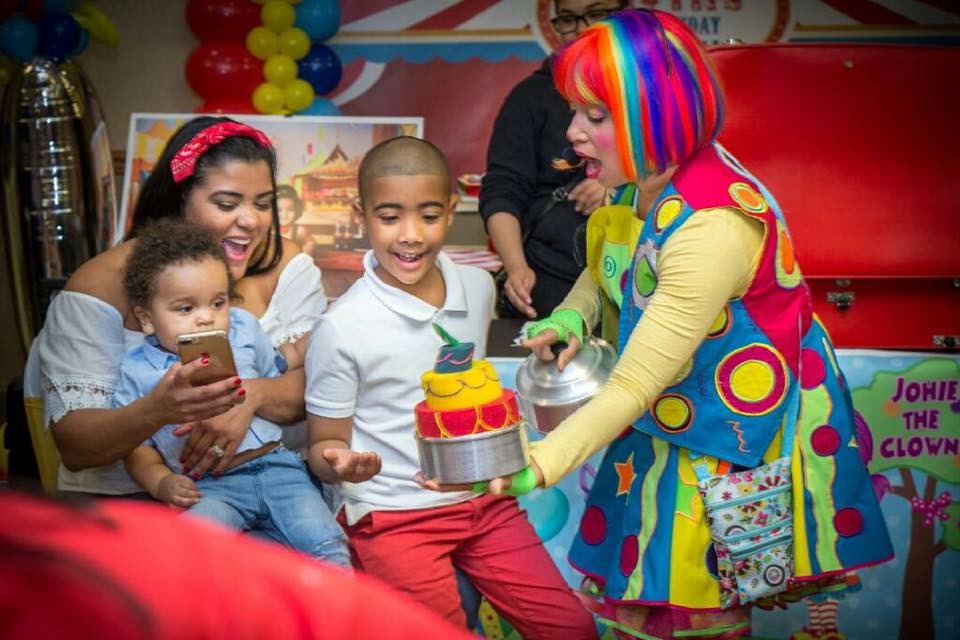 Johie The Clown is not only great for kids birthday parties but also for any event! Day care parties and school functions can be made amazing with the fun and entertainment that Johie The Clown offers. The best part is when you contact Johie The Clown she can help setup a package that will fit your event needs. Whether you want a Bubble Party or just a Glitter Party Johie can provide.
Being budget friendly is something Johie The Clown strives to offer for all of her events. Johie The Clown prides herself on bringing smiles to all the kids and adults alike that she performs for, and would love to help make your next event one to remember. You can click Here for a list of Johie The Clowns service areas to find out if she is available near you. Also, make sure you stop by Johie's Gallery to see all the smiles she's helped create so far and see why Johie The Clown will make your next party one to smile about.